Sqlkit & Sqledit
Sqlkit is a tool to edit data of a database (as opposed to schemas) in the easiest possible way. By easy we mean both: easy to write for the user since completion helps you, and easy to write for the programmer as a lot of features are there to help you customize it. It's based on PyGTK.
It provides:
a GUI named sqledit that can be used standalone and does not require programming knowledge
A typical usage can be:
from sqlkit.widgets import SqlTable, SqlMask
from sqlkit import DbProxy

db = DbProxy(engine='sqlite:///movies.sqlite')
t = SqlMask('movie', dbproxy=db, single=True)

that will pop up an editor for the record. Filter panel will be available just clicking on the label of the fields.
Features
Main features of sqlkit:
Editor of databases in 2 modes: SqlTable & SqlMask. Mask can embed tables of related tables.
Based on sqlalchemy: can cope with many different database backends (PostgreSQL, MySQL, sqlite and firebird the ones sqlkit was tested on). Can be used to edit any selectable you can build with sqlalchemy.
Very powerful filtering capabilities:

each field can be used to filter visible records
date filtering possible also on relative basis (good for saved queries)
works on expressions too
works on fields in related tables embedded in mask

Completion both on normal fields and foreign key fields
Very easy way to draw a layout for mask views
Sqledit - the standalone program to browse and edit data: python script to edit db
Completely effortless editing of Relationships
Very easy way to set Defaults
Possibility to display Totals in numeric fields
Constraints: any possible sql constraint can be attached to a Mask or a Table. It can be expressed as a normal sqlalchemy query or with django-like syntax. Works on expressions too.
SqlMask and SqlTable are widgets with several Signals
Hooks for a very easy customization of behavior and for validation
More than 70 snippets of code to demonstrate each feature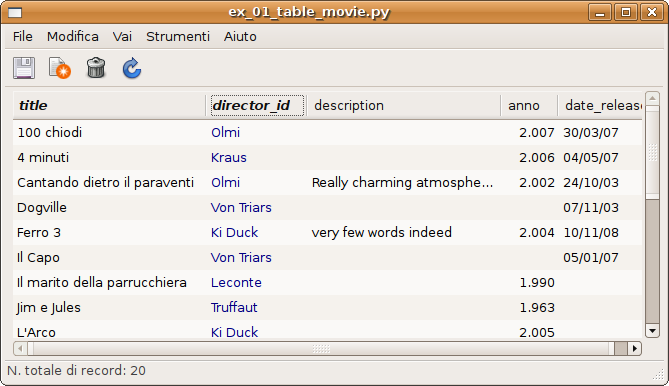 Basic assumptions and limitations
You use PrimaryKeys and ForeignKeys throughout the db. If you don't use ForeignKeys sqlkit will just work w/o any special behavior. If you don't use PrimaryKeys sqlkit will not even open the table.

ForeignKeys are simple. Compound ForeignKeys are not yet supported, that means that you can't use:

class MyTable(Base):
   ...
   ForeignKeyConstraint('first_field, second_field], [referenced1, referenced2])

This will be addressed in a future release

You are using one single metadata. This is a limit but it's my normal environment. There's not really anything that cannot be changed easily about this, simply I didn't have need for this, nor working cases. (While I was plenty of ideas on other features...)

Spaces are not allowed in field names. This comes from the layout syntax definition.
sqlkit supported backends
Sqlkit is built on sqlalchemy that allows editing db with many different engines. I use it with PostgreSQL, MySQL, sqlite and Firebird. Other engines are supported but may need a very simple addition that I'd be willing to do on demand.