Totals
Numeric columns of a Table have the option to show totals and subtotals. Subtotals are determined by brake fields/functions. This may be done interactively from the column menu or from code. The following example is very stupid but... you get the feeling!:
t = SqlTable('movie', dbproxy=db, order_by='director_id')
t.totals.add_break('director_id')
t.totals.add_total('year')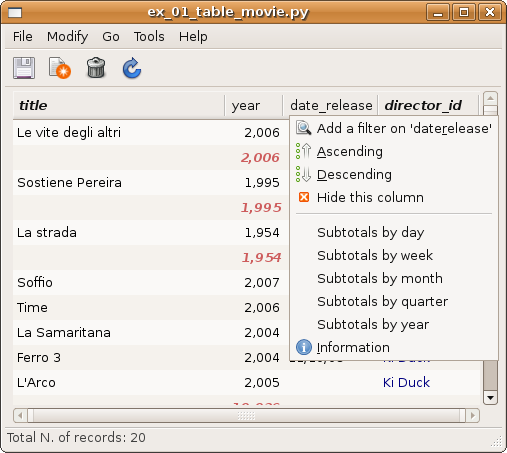 Personalization and colors
Totals are generated by a class sqlkit.widgets.table.totals.Totals that can be inherited and modified to set different total behavior.
The colors are defined in a class in the same module TotalObj whose method set_value_and_colors can be used to personalize colors and markup of the cell.
Dates
Since date breaks are probably very common a function makes it easy to brake on dates.
Totals... with no totals!
If you only need subtotals and not totals you can prevent totals using option hide_total when declaring the column to sum.
Signals
computed:

this signal is emitted when the total is computed. The signature

of the callback function is:

computed_cb(total):

| | |
| --- | --- |
| Parameter: | sqlwidget – the total instance that emitted the signal |